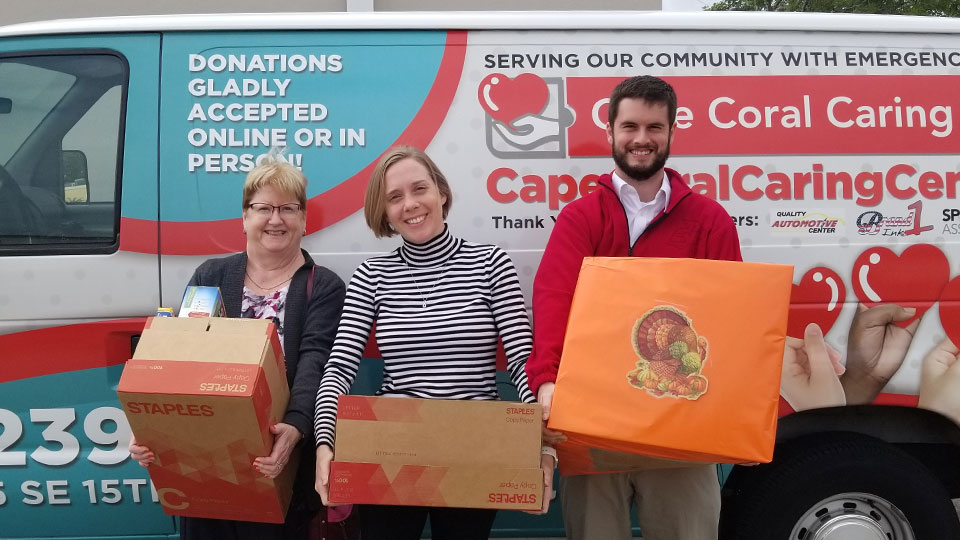 Make A Monetary Donation
Send check or money order to:

Cape Coral Caring Center
1420 SE 47th Street
Cape Coral, FL 33904

You will receive an acknowledgment from us for tax purposes, identifying your donation and the amount.
You may also make donations by credit card or PayPal directly to the Cape Coral Caring Center.
Donate at Walgreens

Follow these instructions to donate through our local Walgreens stores:
Items Needed For The Pantry
The Cape Coral Caring Center is located at 1420 SE 47th Street – two blocks west of Del Prado Boulevard and two blocks North of Cape Coral Parkway.
Food donations and deliveries are accepted Monday – Friday from 9a.m. to Noon (no holidays) at the back door, ring the door bell.
For large deliveries or pick-ups please call (239) 945-1927.
• Cereal
• Jelly (grape and strawberry, preferably)
• Peanut Butter
• Canned Fruits
• Canned Vegetables
• Fresh Produce
• Spaghetti Sauce
• Spaghetti Noodles
• Macaroni and Cheese
• Canned Pasta
• Dry Potatoes
• Canned Chicken and Beef
• Hearty Soup
• Baked Beans/Pork and Beans
• Canned Tomatoes/Tomato Sauce
• Rice (1 or 2 pound bags)
• Bar Soap
• Toilet Paper
• Hair Products
• Toothpaste
Neighborhood Food Drive
Have your own "Neighborhood Food Drive"!
Call Wendy at the Caring Center (239.945.1927) and she will send you information about what we do.
Using the information, type a sheet telling who you are and that you are conducting a food drive on behalf of the Cape Coral Caring Center. Give instructions on how you will pick up the bags, date and time, etc. Tell them if they would like, just leave the bag with food on their porch.
Obtain plastic grocery bags (we can provide these, if you would like). Staple the information sheet to the bags.
Collect food and bring to our back door between 9a.m. and Noon, Monday through Friday, or call and we can make arrangements to pick it up.
After Hours Drop Off:

Nick's Quality Automotive:

876 Cape Coral Parkway
The "Neighborhood Food Drive" works very well for students that need to get volunteer hours. After students have conducted a food drive, their parents always comment about how excited their children got about doing such a good deed. Children of all ages know how important it is to make sure no one goes hungry! Please make sure the drive is conducted with parental guidance.
AmazonSmile
With AmazonSmile, you can support Cape Coral Caring Center every time your shop, at no cost to you. Go to smile.amazon.com to sign up. Select "Cape Coral Caring Center Inc" as your charity. Bookmark the website on your computer and shop. Amazon will donate 0.5% of your purchase price on eligible items. It may not seem like a lot, but every little bit adds up.
Your Employer?
Check with your employer. A large number of companies are supportive of their employees' charitable interests. Your employer may offer matching funds.